Enemies ‣ Baronite Carrier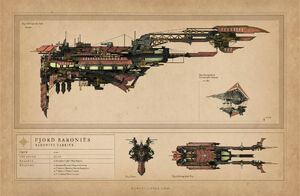 The Carrier is the boss ship of the Fjord Baronies.
The Ship
Edit
The Fjordjand Baronies have always enjoyed a life of perfection, wealth and strategy. The Baronites are well known for their keen strategic advances on enemy territory and what better way to spread influence than to use a behemoth plane carrier for fast navigation to all the settlements within the radius of the main vessel.
By far one of the largest vessels at 130 meters tall - 3 times taller than a Pyramidion (40 meters); The Baronite Carrier requires 15 to 20 loyal citizens to the baron they serve. A fully operational Baronite Cruiser with three capital ship engines can move at a stable cruising speed of 38.5 meters per second.
Armament
Edit
The Fjordand Baronies have a plethora of weapons concealed from the world through their past victories. Each Baronite Carrier is built to encase a Requited Prayers Cannon. These gigantic cannons are capable of firing remotely navigated missiles at any target the commander desires to cleanse.
Other weapons include:
Two Enhanced Banshee Rocket Launchers
One Enhanced Hades Cannon
Three Enhanced Flamethrowers