Beacon Flare Gun Specs
Gun Statistics
Class:
Utility Weapon
Direct Damage:
10 Fire
Burst Damage:
5 Fire
Burst Radius:
3 meters
Arming Time:
0.6666 seconds
Arming Range:
200 meters
Effective Vs:
Balloon, Hull
Rate of Fire:
0.5 bullets/s
Reload Time:
20 seconds
Magazine Size:
2
Projectile Speed:
300 m/s
Range:
750 meters
Shell Drop:
3 m/s²
Jitter:
5 deg
Spread at Max Range:
65 meters
Size:
Light
Movement and Arcs
Horizontal Angles:
80 deg Left; 80 deg Right
Vertical Angles:
50 deg Up; 50 deg Down
Horizontal Turn:
190 deg/s
Vertical Turn:
150 deg/s
Zoom Level:
1.5x
Additional Info

100% chance to apply 15 fire stacks on direct hit
The flare will illuminate the clouds in its vicinity for a duration of 25 seconds until disappearing.
"
Fires a brightly burning flare that hovers in the air to reveal ships hidden in cloud cover. Can also be used as a weapon to cause fire damage.
"

—Wilson's Notes
The Beacon Flare Gun fires a brightly burning flare that hovers in the air to reveal ships hidden in cloud cover. It does a very small amount of damage to an enemy ship and starts a fire, but is primarily used for its utility: lighting up cloud cover and displaying enemy ships.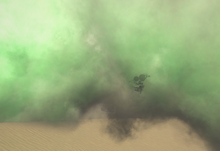 When fired, the flare's projectile will travel to its maximum range or stop when it hits a cloud (if already traveled over its arming range), upon stopping, it will begin to emit a green aura of light which will silhouette ships trying to hide there. While illuminated by the flare, ships are able to be spotted using the Spyglass even when hiding inside, or behind a cloud formation. This weapon requires clever use and placement for effective usage in order to not reveal your own ship to the enemy.
Common Tactics
Edit
The Beacon Flare Gun's primary usage is to light up clouds. In the heat of battle it can still be useful to overheat guns with a single precise shot, or to apply fires to non-fire-immune components.
Keeping spots on enemies is essential for long range engagements as well as to avoid surprise flanks. Therefore, flaring clouds and sandstorms can make an impact on the course of battle. It is important to not position the ship too close to the flared cloud or the flare will reveal your own ship. It is most commonly seen on the Pyramidion's aft port gun, the Galleon's aft gun and sometimes on the less used port gun of a Goldfish. Due to its long reload time and small damage output, it can only be used offensively by setting components on fire.
The usage of Chemical Spray nullifies the offensive capabilities of this gun (incoming fire stacks) completely. Sniping guns with the flare to overheat them requires practice, and is easier with Heavy Clip for the reduced jitter effect it offers.
AI crewman never man this gun. This can be used to block one gun slots on ship to redirect AI to another.
Commonly Used Ammunition
Edit
Increases clip size to 3 shots. Possibility to enlighten more clouds with one clip, or to light more components on fire.
Reduced jitter, easier and more precise aim to overheat enemy guns.
Clip size unchanged.