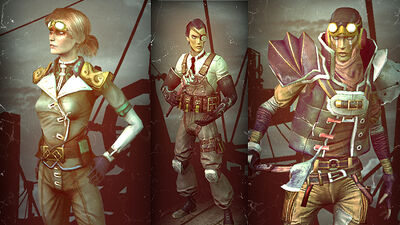 There are three roles a player can choose while playing Guns of Icarus. A player may change it at any time, provided they are not currently in a match.
The three available roles are largely identical in function and control, except for their tool loadout, which determines their specialization and playstyle. Any player- regardless of role- can gun, repair, or pilot as needed, and a crew will often be forced to quickly change tasks in order to adapt to the circumstances of battle.
Related to role selection is the choice to be captain or crew. Any class can either captain or crew aboard an airship, although conventionally captains will choose the pilot class, owing to their battlefield command responsibilities.
The three classes are easily identifiable by their attire, the pilot wearing noble, expensive clothing, the engineer dressing more practically with pockets and safety equipment and the gunner wearing more battle-oriented armor often made from salvaged enemy wares.
Trending pages
All items (3)