Community Ambassadors (CA) are members of the Guns of Icarus community that have volunteered to become a visible helper for everyone. Some CAs later become moderators to further manage the global chat should the need arise. 
Some of the Community Ambassadors roles are: 
Answer questions about Guns of Icarus Online.
Offer training to new players.
Play in novice matches in a teacher role.
Manage a respectful environment for players.
Mindful of Code of Conduct.
Serve as a bridge between the community and the developers.
Moderators have a more in-depth role of ensuring the community is peaceful and friendly. Many Moderators are well known members of the community and will willingly assist any and all players with issues. Moderators respond to a variety of different conflicts including Trolling, Harassment, Naming Conventions and more.
Identifying a Community Ambassador
Edit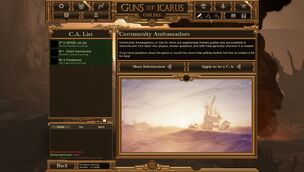 Community ambassadors were formerly recognized by their golden-yellow in-game name color. In addition, community ambassadors are also rewarded with a unique badge, identifying them as CAs.
The current User Interface identified Community ambassadors, Moderators and Developers with Yellow and Green Labels. These are CA, MOD, and DEV respectively.
Community Ambassadors and Moderators can be found under the "Help" section of Community under the new User Interface. Alternatively, Community ambassadors and Moderators can quickly be found pressing the Question Mark symbol in the lower right corner of the UI.
Becoming a Community Ambassador
Edit
In order to become a community ambassador, you will be required to fill in a form sent to the development team. It will then be reviewed and decided by the existing Community Ambassadors if you are fit for the job. If you are not accepted, you can try again a while later, when you have collected more experience or become more active.
For more information on becoming a community ambassador.