Mechanics ‣ Gunnery Mechanics ‣ Hit Mechanics
Each weapon has a maximum of two damage types. The primary damage will be applied on direct hit, the secondary damage will then be applied to all components in the AoE radius subsequently.
Hitting a destroyed component will transfer damage and fire ignition chance (if present), to the "hull component" (first armor, then hull). Overflow damage on a single hit does not transfer. The damage transfer from a destroyed component is to the "hull component", a destroyed component therefore increases the hit-box of the "hull component". So for example if a weapon with shatter damage hits a destroyed engine while the armor is still up, instead of the x2 damage modifier of shatter versus engines, the x0.2 damage modifier against armor applies.
Hits are indicated using hit markers.
Primary Damage
Edit
The first damage type is the primary damage. It applies on direct hit.
Secondary Damage
Edit
The second damage type is the secondary damage, also known as AoE or burst damage. It applies to all components in AoE radius subsequently after the direct damage. Amount of AoE damage is dependent of range to epicenter. Full AoE damage is applied inside 50% of the AoE radius, then the damage drops linearly from 100% to 20% on the other edge of the radius.
AoE hits can deal damage to multiple components at once but only once for the same component.
Arming Time and Range
Edit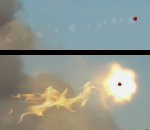 Guns with arming time apply their secondary damage only after the projectile is in the air for a specific amount of time (arming time). Their primary damage is not affected and is always fully applied (with the exception of the Phobos Mine Launcher, which will only apply the secondary damage without any primary damage). The arming range is calculated by the product of projectile speed and arming time of the weapon.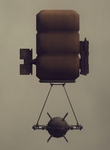 It is possible to visually tell if a projectile has reached arming distance usually by looking at its model. The projectile model changes as it reaches arming time (it usually expands), in addition, when the projectile hits a target, an armed projectile will be accompanied by a larger explosion than the unarmed projectile.
Some ammunitions affect the arming range by either changing the arming time (Lochnagar Shot) or the projectile speed (Lesmok Rounds, Greased Rounds, Heatsink Clip, Incendiary Rounds).
When on a gun with arming time an arming time indicator shows up when the shot becomes armed.