Mechanics ‣ General Mechanics ‣ Stamina
Introduced in version 1.4.1 of the game, stamina is a game mechanic that allows the player to temporarily boost or enhance their character's performance and interactions within the game. Once used, stamina regenerates over time and by performing actions related to their class.
User interface

The stamina bar is displayed at the bottom center of the screen above the
equipment
UI. Upon usage (default key: 'shift'), the bar will start to drain - and will display the remaining amount of stamina. Over time, when not in use, the stamina bar will regenerate slowly.
Stamina Effects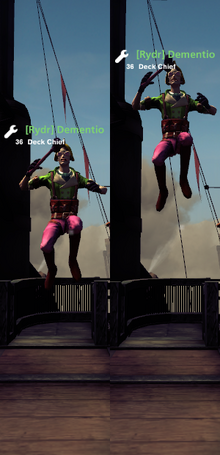 The usage of stamina enhances each class in a different way to benefit the needs of each class. Here are the effects of stamina for each of the classes:
Class
Stamina Effects
Pilot

+125% ship thrust.
-20% longitudinal drag.
+150% climb force.
+150% descent force.
-20% vertical drag.
+15% angular drag.

Engineer

+85% movement speed.
+85% jump height.

Gunner

+25% reload speed.
+30% rotation speed.
+20 degrees yaw arcs.
+40% pitch arcs.
The pilot's stamina enables the pilot to enhance the mobility of the airship. Effectively, increasing acceleration and top speed while still giving the pilot great control over the airship.
The engineer's stamina enables the engineer to enhance his movement speed and jump height. Stamina allows the engineer to get to vital components faster under fire for optimal repairing and rebuilding speed.
The gunner's stamina enables the gunner to enhance his weapon's performance. Stamina enables the gunner to maximize the potential of his gun to aid in critical moments both in terms of damage and functionality.
Stamina Usage and Regeneration
After using up stamina it can regenerate in two ways: Regeneration over time and objective based regeneration. Each class will regenerate over time differently, and will have different objectives that will regenerate their stamina.
An exception to objective based regeneration that is not class specific is a regeneration of 33% of the stamina bar to every crew member aboard an airship that scored a kill.
| Class | Total Stamina(sec) | Recharge per Second of Stamina(sec) | Time to Fully Regenerate Stamina(sec) |
| --- | --- | --- | --- |
| Pilot | 4 | 12.25 | 50 |
| Engineer | 3 | 16.66 | 50 |
| Gunner | 6.5 | 9.23 | 60 |
Objective Regeneration
Class
Objective Stamina Regeneration
Pilot
+33% after successful enemy ship destruction.
Engineer
+33% after successful enemy ship destruction.

+30% for every component rebuilt.

+15% for every component repair.

Gunner
+33% after successful enemy ship destruction.

+12% for every component destroyed.