Added in patch version 1.4.3, Veteran matches are matches specifically made to accommodate players who have reached rank 30 or higher in any of their classes - any player that does not answer that requirement is not able to join Veteran matches. However, players who meet those requirements are not limited to playing only Veteran matches and are still able to pick between both the normal and veteran match modes.
Accessibility
Edit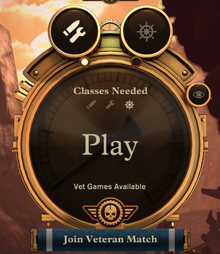 Veteran matches are only accessible to players to have reached rank 30 or beyond in one or more of their classes. Veteran matches are directed by a separate matchmaking system for veteran players alone, that can be accessed from the main-menu.
Accessing the veteran match maker is only possible when a certain threshold of players with veteran status (reached rank 30 or more with any class) are currently in-game. When this threshold is met, a button for accessing the veteran matches will appear in the main-menu for veterans.
Other than playing Veteran mode for the added challenge of higher-skilled opponents, Veteran mode offers a wide range of achievements to achieve - complete with redeemable rewards, namely including titles.