Community ‣ Wanted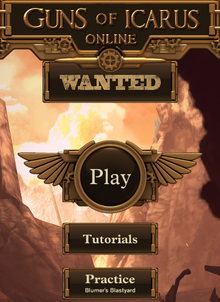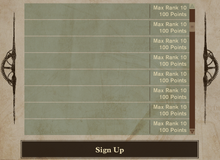 The WANTED system is a mini-game designed to provide people with the ability to compete against each other in a fight for the highest bounty score. In parallel, players who win matches against these wanted people will gain points in accordance with the bounty's level count. At the end of the assigned ~14 days time period, the highest ranked bounties and hunters will be awarded.
In addition to the mini-game, bounties will have red tinted names, and have [WANTED] as their clan tag to indicate their wanted status.
Sign-Ups
Edit
The sign-ups for the WANTED mini-game are done through the game's main-menu, in a tab at the top of the screen labeled 'WANTED'.
The sign-ups start after the end of each season, and are open as long as the spots are not taken. Each season has 100 slots open for sign-ups.
It is important to note that only bounties need to sign-up, hunter status automatically applies to everyone else, including the themselves - so it is possible to be ranked both as a bounty and as a hunter altogether.
At the end of each season, the WANTED status gets reset.
The scoring for bounties and hunters is done is two separate ways, with top hunters placed on the leader-boards, and with the bounty's scores displayed there on a separate tab.
Bounties:
Edit
The players who signed up to be a bounty, will be placed on the score board in consideration of their amount of wins. A bounty with more wins will be ranked higher. Losses do not affect this score. No points will be awarded for matches joined midway.
Hunters:
Edit
All players in-game are automatically assigned to be hunters. A player receives points towards a higher hunter ranking upon winning against a team that had a bounty in it. The amount of points received per bounty is determined by the sum of the bounty's levels, multiplied by 10. it is possible to receive points from more than one bounty at a time, if more than have been defeated in the same game. No points will be awarded for matches joined midway.
Once a bounty has been defeated once, his name will be greyed out on the scoreboard, and no longer will he be able to be defeated for points by that same hunter. A hunter with more points will be ranked higher, losing against bounties will not be dealt with penalty.
Notorious Bounty:
Edit
The top few bounties will be awarded with a badge.
Most Dangerous Bounty:
Edit
The top bounty will be awarded by a badge.
Deadliest Bounty Hunter:
Edit
The top hunter will be awarded by a badge.
Bounty and Hunter:
Edit
If a player wins both the top bounty and the top hunter spots at the same season, he is awarded with a special badge.