Mechanics ‣ General Mechanics ‣ Weather
The conditions of the atmosphere in terms of temperature, wind, moisture, etc. The weather in Guns of Icarus Online is usually map and or region specific, with each map representing a set of characteristics that determine the weather effects. Warm and dry areas will be characterized by sandstorms, while cold and moist areas will be characterized by freezing or rain.
While most weather effects are purely aesthetic, there are some exceptions, in which they could affect the airships - like sandstorms dealing damage to components of ships passing through them.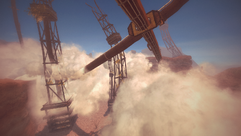 Clouds are the most common representation of weather, appearing on every map to date - with some maps having an abundance of clouds and some with only a few.
Clouds serve as a means to gain non-solid cover from enemy ships and can be used both for escape and for sneaky attack maneuvers. With maps such as Paritan Rumble or Canyon Ambush where clouds are abundant they can play a big role in the element of surprise of engagements.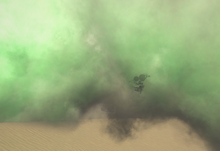 However, using the Beacon Flare Gun will temporarily neutralize the hiding ability of clouds - making them easily see-through to spot potential ships hiding in them. This method of using the flare to see through clouds is extremely effective at countering enemies using them as cover, or getting a better line of shot for the engagement if a cloud is in the way.
Hazardous Clouds:
Edit
Hazardous clouds are a sub category of clouds that deal damage to your components if passing through them. Sandstorms characterized by the dry and hot climate of many desert-themed maps (like Battle on the Dunes and Desert Scrap) are distinguished by their significantly darker color, and will apply damage to your components while passing through them (5 shatter damage per second). While the damage dealt to the components is not significant, if left untended, components will be destroyed over time, which means staying inside sandstorms for extended periods of time is not advised.
It is important to note that sandstorms are not the only hazardous clouds but are the only natural occurring ones, with the rest being player-inflicted (like Tar Barrel.).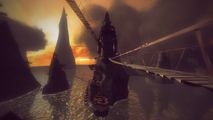 Rain, characterized by moist regions (like in Water Hazard or Raid on the Refinery.) is a purely aesthetic effect with no game-play implications.
Rain causes an effect of water droplets to appear on your screen.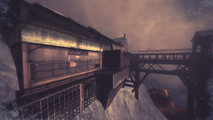 Snow, characterized by cold regions (like in Northern Fjords or Fight over Firnfeld.) is a purely aesthetic effect with no game-play implications.
If you look carefully, you can see snow flakes.
Freezing causes an effect in which the corners of your screen appear to have frozen over time.